Introducing the Empowered
Wellness Journal!
Ready to thrive in your health goals going into 2024? Maybe you have always said you wanted to begin exercising but then two weeks into the year, that goal is old news as other priorities come to the forefront. Our, maybe you are rock solid in your workout routine, but could use some support in other areas. The Empowered Wellness Journal is for you regardless of what stage you are in your wellness routine. You will learn all about health promoting behaviors, how to implement them in a SMART way, and track your progress in a way that leaves you feeling EMPOWERED! Enter the code "WELLNESS" at checkout for 30% off!
BUY NOW!
Body Empowering
With this journal, you won't focus on what you can't do, you will focus on what you can do and grow from there! If you aren't exercising at all, then try 10 minutes! If you don't have any fruits or veggies, then can you start with a banana with your breakfast? You will focus on what you can add to your life, not what you can restrict and feel empowered through the process.
Health Promotion Based
This journal is not focused on weight.You will never see a spot asking you to track your weight, inches lost, body fat, or anything else. Instead, you will find that this journal is behavior based. Why? Because building a consistent exercise routine, eating nutritious foods, getting adequate sleep and other health promoting behaviors will affect everyone's body differently but will improve everyone's health.
Realistic and Sustainable
You can only benefit from your health behaviors if you actually engage in them! So, we will focus on what is realistic and sustainable to you. If that means 10 minute workouts 5 days per week, then congratulations that's 2,600 minutes each year you have exercised instead of continuing to say "I'll start Monday". Start with what you can!
What Makes Barre Empowered 

Glorious?
Barre EMPOWERED!
Barre Empowered is a unique wellness experience. We focus on uplifting language in our workouts to empower you on and off the Barre, affirmations to improve your body image and non-diet wellness where we focus on how we FEEL, not how we LOOK.
Unlike traditional Barre classes that focus on "long lean legs", or achieving a "ballerina's body", at Barre Empowered, you will be encouraged to fall in love with your body as a fearfully and wonderfully made work of art. Even if it's just one dimple that you find, we are going to love the heck out of that dimple until you can begin to see your body as a masterpiece, not a work in progress.
Intention and Affirmations
We are intentional about setting a positive intention with exercise at the beginning of our workouts. During the workout, expressing gratitude for all the amazing things our bodies are able to do. Then wrapping up with encouraging affirmations reminding us that we are so much more than a body.
At Barre Empowered, we don't focus on you feeling the fire in your legs and getting "the burn", we focus on building up the fire in your heart. Your fitness routine is supposed to enhance your life, not become it, so you'll be empowered from start to finish to feel comfortable in your skin.
Health Promotion
"What can I add", is the principle of health we utilize here. Instead of thinking about what can be taken away from our diet or lifestyle to improve our health, we focus on what we can add instead! Can we get a little more rest, walk for a few minutes during the lunch break, and show up to just one more workout each week? Small changes, but monumental and sustainable growth.
You will be supported in this through challenges to help improve your wellness over time. We do nothing fast here because fast doesn't last. You will learn to build a healthy lifestyle that is unique to your life and capacity. Maybe that is 10 minutes of exercise per day, or maybe it's 30, but the goal is to build a realistic and sustainable routine that you enJOY!
Stream 

ON ANY DEVICE
Log-in on your phone, tablet, laptop, or project classes onto your tv to have a body empowering, strength-building, affirmation-filled Barre class.
Sorted

INTO CATEGORIES

Looking for a core specific workout? How about a nice chair class you can do while watching tv? A great strength-building class? All classes are sorted for ease to help you find just want you need to be successful and consistent with your exercise routine. Whether you have 10 minutes or 40, there is a class for you!
New Challenges
MONTHLY

Building a consistent and EMPOWERING fitness routine can be a challenge. That's why challenges are hosted monthly to help you continue to work towards your goals. Challenges like Hot Girls Walk, Gorgeous Girls move, and more have helped members conquer their health and wellness goals!
See What Current Members Have to Say!
April
Barre Empowered Member, 5 Months
At the time I joined, I was exploring a new relationship with movement. I was looking for a community with similar values focused on overall wellness and not diet culture. The last 5 months has been extremely healing. I look at movement and wellness in a completely different lenses now. During this time, my body image, mental health, consistency with exercise, and joy found in movement have all improved! Barre Empowered is focused on what's best for each individual person. I love the continuous reminders that we are not chasing a certain body or number on the scale. Between the challenges, social media posts, and classes, Barre Empowered truly supports each member and the community. I am the most active I have been in a really long time and it is because I truly enjoy moving my body these days. I am not active because I have to but because I want to.
Dani
Barre Empowered Member, 2 Weeks
My relationship with exercise has always been one extreme or the other... I have had spurts of time where I take every class and go to the gym every day, but then I get burnt out and don't move my body for weeks at a time. Now, I'm easing back into it. Realistic expectations, community accountability, and an enthusiastic guide seem to be what I needed!
Maya's approach to movement and exercise with such positivity and JOY...it's hard not to be inspired! She has been a great educator in the "unlearning" of a lot of bad past exercise experiences. I'm proud of myself for joining a challenge, and it has been really awesome checking out the online community. I'm seeing myself in a lot of the other members and it's very comforting while also encouraging.
Catrina
Barre Empowered Member, 1 Year
Prior to Barre Empowered, I truly hated to workout. I viewed it as a punishment for my body being so big. Now, I truly workout for the benefits exercise does for my body. I workout consistently as part of self care and loving my body as it is now. I really work hard to be more mindful when I exercise to connect it more deeper level. 
Barre Empowered has helped me improve my body image, mental health, find joy in exercise, and improve my overall strength and other performance based goals. When I complete a session I feel so accomplished and proud! My biggest accomplishment is just really being more consistent. Just enjoying it and just honoring what my body does for me. 
Take a Peek at our Community Challenges!
JOIN BARRE EMPOWERED!
Uplift. Empower. Inspire.
Prepare to feel fit, fierce, and unstoppable in your body.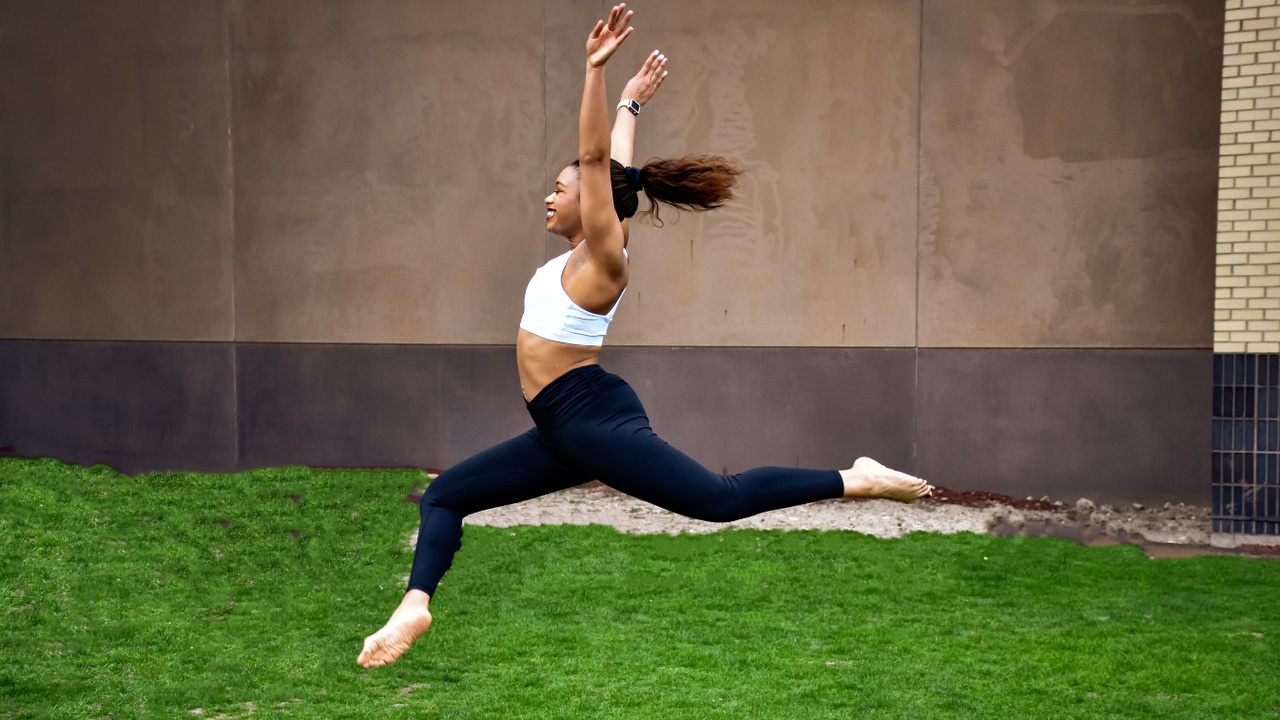 Empowering Barre Classes

Holistic Health and Wellness Support
Challenges and Community Support
See What Current Members Have to Say!
Laura G.
Barre Empowered Member, 6 Months
Prior to Barre Empowered, I felt like exercise was all or nothing so I usually chose nothing. I didn't feel good about my body when exercise was hard and it was a disappointing feeling. Now with Barre Empowered I am grateful my body can move in a positive way. I am able to move a little or a lot depending on how I feel. Maya's instruction is kind, graceful, relatable and encouraging. Through Barre Empowered, I have improved my body image, mental health, gained consistency with exercise, and joy in movement amongst other improvements in my exercise performance (strength, cardio, etc.). Barre exercises gives me confidence. The movements are graceful, help my posture and help me stretch. These movements bring me joy. I am proud that I don't dread working out, I'm learning to love my body as it is. I enjoy Maya's variety of online classes as well as her educational social media content. Thank you Maya!
Kelly S.
Barre Empowered Member 6 Weeks
Before joining Barre Empowered, my relationship with exercise was sporadic/Inconsistent. It felt like a chore or a punishment to atone for sinful eating. I'm relearning to exercise for health and wellness instead of aesthetic goals. At almost 43, I'm too busy and stressed to exercise in a way that's not enjoyable. Maya's recent walking challenge motivated me to simply move. Nothing complicated or rigorous. I didn't over think it. I wasn't worried about being sore the next day. I found joy in movement again. My morning walk usually lasts 3 miles. My head feels clear, my circulation has improved, so has hip flexor tightness. Sleeping better too. I'm most proud that I've gained consistency!!! Walking has brought me joy in movement. I'm adding in more Barre workouts too. Everything feels sustainable and enjoyable!
FREQUENTLY ASKED 
questions
What equipment is needed for classes?
What results may I expect?